http://www.internationalist.org/mumiagravelyill1504.html
Mumia Gravely Ill
Free Mumia Abu-Jamal Now!
Don't Let Them Kill Him in Prison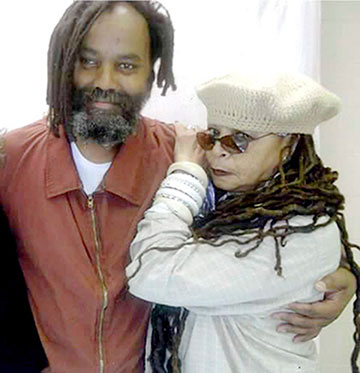 Mumia Abu-Jamal and Wadiya Jamal
At this moment, Mumia Abu-Jamal is in grave medical condition. It was reported yesterday evening (April 24) that after Mumia was earlier taken from the hospital over objections from his family, and then two days ago removed from the prison infirmary and placed in the general prison population, his medical condition is worsening.
For decades the authorities have sought to silence the imprisoned radical journalist and former Black Panther, whose radio broadcasts earned him the reputation as "the voice of the voiceless." His prison writings, including Live from Death Row, and hundreds of broadcast articles collected in several books have been read around the world.
A medical alert from Noelle Hanrahan of "Prison Radio," says that Mumia is now barely able to eat and showing symptoms possibly associated with "hyper glucose levels, diabetic shock, diabetic coma, and with kidney stress and failure."
Mumia urgently needs 24-hour medical care. Readers are asked to contact prison authorities and demand that he "be seen immediately, and not be left to go into a diabetic coma." Direct calls and e-mails to:
John Kerestes, Superintendent SCI Mahanoy: 570-773-2158 x8102 |570-783-2008 Fax | 301 Morea Road, Frackville PA 17932
Tom Wolf, Pennsylvania Governor: 717-787-2500 | governor@PA.gov | 508 Main Capitol Building, Harrisburg PA 17120
John Wetzel, PA DOC: 717-728-4109 | 717-728-4178 Fax | ra-contactdoc@poc.gov | 1920 Technology Pkwy, Mechanicsburg PA 17050
Susan McNaughton, DOC Press secretary 717-728-4025. PA Docsmcnaughton@pa.gov
Mumia is innocent. The ruling class whose crimes he has relentlessly exposed and denounced has tried and failed to execute him. He was on death row for almost three decades, but the state was unable to kill him with lethal injection due to the worldwide campaign of protest. Now the authorities seem bent on killing him through deprivation of urgently needed medical attention.
We demand, Free Mumia Now!
NJ Teacher Whose Students Sent Get-Well Cards to Mumia

Defend Marylin Zuniga
By Class Struggle Education Workers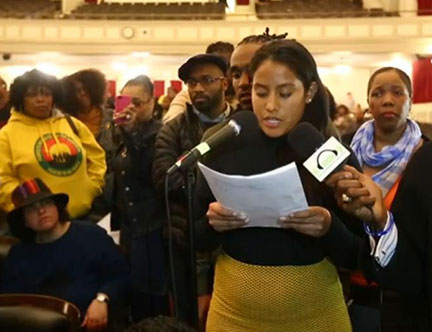 Marylin Zuniga speaking at Orange, New Jersey school board meeting, April 14.
Class Struggle Education Workers stands in solidarity with Orange, NJ elementary school teacher Marylin Zuniga who was suspended after her third grade students sent "get well" messages to Mumia Abu-Jamal, the re­nowned black radical journalist who was framed and convicted in the 1981 shooting death of Philadelphia police officer Daniel Faulkner.
Despite Mumia's innocence, he was sentenced to death and kept on Death Row for 29 years. He is still imprisoned for life while the authorities are determined to silence this "voice of the voiceless" one way or another.
Zuniga's suspension by the Orange school board stemmed from a lesson she taught on civil rights leaders back in February during Black History Month. She asked her class of black and Hispanic students to consider the meaning of a quote from Jamal: "So long as one just person is silenced, there is no justice."
On March 30, Jamal went into diabetic shock with life-threatening high blood sugar and was taken from prison to an outside hospital. Two days later he was suddenly returned to SCI Mahanoy, the same prison whose medical personnel had failed to diagnose or treat him. That's when the kids sent their cards. Zuniga told a WABC reporter, "In April, I men­tioned to my students that Mumia was very ill and they told me they would like to write 'get well' letters to Mumia."
Zuniga's victimization was not because school children sent cards to prisoners but because the prisoner is Mumia Abu-Jamal. The suspension is part and parcel of a decades-long vendetta against Jamal spearheaded by the Fraternal Order of Police (FOP), dutifully whipped up by the right-wing media, and supported by both Democrats and Republican politicians. John McNesby, the president of the Philadelphia FOP wasted no time in attacking Zuniga. "It's absolutely not teaching them anything except how to interact with a convicted cop killer." (New York Daily News, 11 April).
Jamal has been in the crosshairs of the notoriously corrupt Philadelphia police since he was a teenage member of the Black Panther Party. His subsequent courageous and eloquent writing and radio broadcasts in Philadelphia earned him both the reputation as the "voice of the voiceless" and the undying hatred of the Philly PD and the FOP. The cops shot and beat Jamal on the night Faulkner was killed, then railroaded him onto death row. For thirty years, they tried to execute him. In December 2011, Jamal's death sen­tence was overturned in favor of "life with no parole. "Now Jamal's enemies hope medical neglect and abuse will finish the job. For those who are determined to silence Mumia, the third-grade class at the Forest Street Elementary School in Orange NJ can't be allowed to get in the way.
There is opposition to Zuniga's suspension and possible firing. Prominent academics including Noam Chomsky and Cornell West signed a letter from Educators for Mumia Abu-Jamal and sent it to the superintendant of the Orange public schools calling for her immediate reinstatement. The letter likens the messages from Zuniga's class to the letters written by students worldwide that were sent to Nelson Mandela while a prisoner of South African apartheid and branded a terrorist by the U.S. State Department.
When the Orange school board met on April 14, a vociferous crowd of Zuniga supporters demanded that the teacher be allowed to speak. Zuniga stated that she was "very proud of my students' work" while conceding that she believed she had erred in publicizing the students' messages online for which she apologized. As Zuniga reaffirmed her love for her students, their families and Orange community, as well as her desire to continue teaching at Forest Street Elementary School, the crowd cheered "Let her teach!" The school board tabled the issue of Zuniga's fate and will meet again in May.
There should be more teachers like Marylin Zuniga. Class Struggle Education Workers demands: Full reinstatement for Marylin Zuniga. Let her teach!