That wages have remained so low for so long is not by accident; it's by design.
President Trump's repeated bashing of the North American Free Trade Agreement between the US, Canada, and Mexico has failed to dull the allure of Mexico's maquiladoras for global manufacturers looking to cash in on the country's much cheaper labor costs. Tecma Group, a firm that helps US and Canadian firms relocate to Mexico, has more business than ever. In the past few weeks alone, it has helped a cleaning equipment company and packaging company move.
Mexico Consulting Associates, headquartered in Chicago, has three new clients interested in Mexico. Keith Patridge, who heads McAllen Economic Development, estimates that at least 12 companies will be installed this year in the north-western city of Reynosa. Another firm, Tacna Services, has helped two companies get set up in the Baja California area.
The southward migration of U.S. companies continues unchecked even as Trump threatens to abandon NAFTA, provoking fear and consternation among manufacturers that have production and supply chains spread across the three countries. If Trump followed through on his threat, traded goods would be subject to tariffs of around 3.5% in the case of Mexican companies and 7% in the case of US ones, according to Benito Barber, an economist for Latin America for Nomura Holdings.
On Tuesday a new coalition of major automakers, suppliers, and car dealers urged Trump not to withdraw from NAFTA. The members of the "Driving American Jobs" coalition include trade associations that represent major global car manufacturers such as General Motors, Toyota Motor, Volkswagen, Hyundai Motor, and Ford Motor.
The coalition has sponsored an advertising campaign aimed at convincing the White House and American voters that NAFTA has been instrumental in boosting production and employment in the US auto industry — a dubious claim given that all global vehicle manufacturers, which can manufacture just about anywhere in the world, always search for cheap labor to maximize the bottom line.
And in NAFTA-land the cheapest labor is in Mexico, where assembly line workers earn an average hourly wage of around $2.50. The average hourly wage for workers in US motor vehicles manufacturing is $28.70 and in auto parts manufacturing it's $18.19, according the Bureau of Labor Statistics.
For companies that employ thousands of workers, it's hard to resist the lure of such cheap labor. The company Intermex industrial parks, which provides real estate and factory services to global manufacturers, claims on its websitethat it can save overseas companies $20,000 per worker per year.
So vast is the gap between Mexican salaries and those in the US and Canada that it's become one of the biggest bones of contention in the ongoing renegotiation of NAFTA, much to the dismay of global car manufacturers and the Mexican government, which is determined to protect the cheap manufacturing wages that have underpinned the country's economic model since NAFTA was signed on Jan 1, 1994.
It was supposed to be a very different story. According to NAFTA's original proponents, the trade agreement would not only increase wages in Mexico, bringing them gradually closer to US wage levels; it would also relieve downward pressure on US wages. But the opposite happened. Wages in Mexico stagnated in real terms while living standards in the US were slowly eroded.
This is where Mexican wages place on the global auto manufacturing scale (based on 2015 data, gathered by the WSJ in Sep 2016):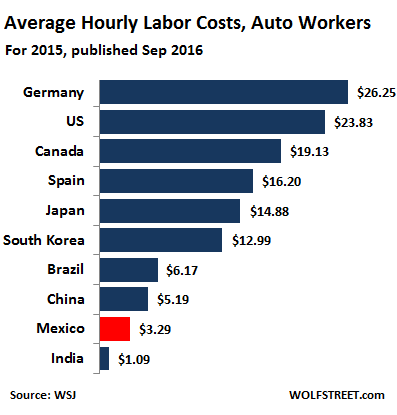 The fact that Mexico's wages have remained so low for so long, even compared to other emerging economies, was not by accident; it was by design. As the late Sir James Goldsmith, one of the wealthiest and most influential business magnates of the late 20th century, presciently warned in a 1994 interview with Charlie Rose, the only possible beneficiaries of trade agreements like NAFTA would be the major multinational corporations who would have free rein to roam the globe in pursuit of the cheapest labor:
"The top 100 companies account for one-third of all foreign direct investment. Now, how do they operate? They're no longer linked to the United States or to France or to Britain. They operate by farming out their production to whatever country produces most cheaply, where they can get the biggest return on capital and pay the lowest part to labor."
Now, President Trump seems intent on undoing some of the key provisions that led to this state of affairs. In the most recent round of talks, he proposed changes to NAFTA's rules of origin for cars, used to determine how much of a vehicle is manufactured at a particular location. The proposed new standards were considered unviable by automakers, as well as the governments of Mexico and Canada.
In the meantime, real salaries in Mexico continue to stagnate, even as more and more companies relocate there. In fact, according to a new joint study by the Economic Commission for Latin America and the Caribbean (CEPAL) and the International Labor Organization (ILO), Mexico was one of only two countries in the region (the other being Peru) to see real wages slip in the first half of 2017 when inflation averaged 5.5%.
In other words, the opportunities for multinationals to exploit Mexico's vast pool of cheap labor are arguably richer than ever. How long it will remain that way depends on how negotiations proceed between NAFTA's increasingly divided partners. By Don Quijones.
Mexico's wage repression scheme creates Nirvana for global automakers. Read… $2.25/hr to Build a $40,000 Vehicle