Week-long mass protest rocks Shanghai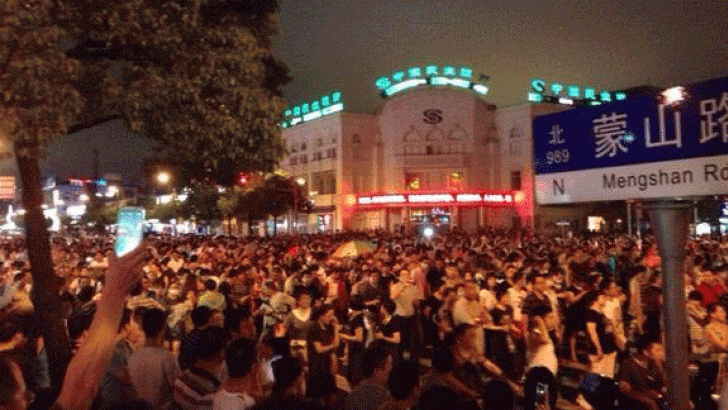 The Shanghai region is one of the most important motors of Chinese capitalism. However, the city's political conservatism is as clear as its economic strength. Unlike cities in the Pearl River Delta, such as Guangzhou and Shenzhen, Shanghai rarely is the location of mass protests or sizeable industrial actions.
However, things might be changing. At the end of June, tens of thousands of locals rallied for seven days in Shanghai's Jinshan District. They were protesting against the planned construction of a new paraxylene (PX) plant. This is probably the largest rebellious street mobilisation in the city since the 1989 student movement.
PX is a flammable hydrocarbon used in the manufacture of plastic bottles and polyester clothing. It is a dangerous chemical to handle or inhale. China is the world's largest producer and consumer of the substance.
The expansion of PX projects is generating mass urban unrest in China. In the past eight years, protests broke out in seven cities. Demonstrations in Dalian and Ningbo turned into violent confrontations between anti-riot police and demonstrators.
The state and the corporations involved never give up trying to white wash the hazards of PX plants. But an explosion in Zhangzhou's PX plant earlier this year again undermined the official propaganda. Residents near the plants worry that, even if PX is less poisonous than many other chemicals produced in the country, their safety still cannot be guaranteed as long as those plants are run by corrupt and unaccountable corporations.
For local government officials, attracting a PX project can be beneficial in many ways: increasing local economic output, increasing the employment rate, attracting investment in infrastructure and personal "grey income".
Thus local governments are always on the side of business and use all means – from demanding that print shops report "suspicious materials" such as oppositional posters and leaflets, to firing tear gas at demonstrators – to suppress environmental protests.
However, a heavy-handed strategy is effective only in dealing with small number of protesters. It's easy to disperse and persecute several hundred. But when people gather in their tens of thousands, they do not fear the tear gas and batons. Then the local officials have only two options: order the police and soldiers to crack down or cancel the construction of the plant.
Neither the local bureaucrats nor the big bosses in Beijing want to risk provoking uprisings in major cities, so they often choose the second option. This has been the case several times in relation to PX plants.
For those who do not want polluting chemical plants, waste incineration plants or nuclear power stations in their neighbourhood, mobilising a large crowd on the street as quickly as possible is important.
This strategy worked again in Shanghai. Although many were arrested and detained during the seven days of protests, the Shanghai government eventually announced the suspension of the project.
However, as long as PX plants are profitable, corporations will try to build them in different locations, such as where the local population is not big enough to stage a mass protest.
Widespread environmental damage
It is not just PX manufacture that is generating resistance. There is widespread environmental degradation in China; it is taking a heavy toll on the population. Liu Jianqiang, Beijing editor at China Dialogue noted in 2013:
"The last five years have … seen the Ministry of Environmental Protection loosen environmental impact assessment requirements, allowing large projects nationwide – and particularly in ecologically fragile west China – to go ahead unimpeded, with the power giants free to destroy rivers …
"These five years have seen pollution incidents increase, with air pollution already more than the public can bear. Food safety scares have been frequent, while contamination of rivers, lakes, oceans and groundwater has worsened. The country has 200 "cancer villages", and in Beijing cases of lung cancer have increased 60 percent over the last decade."
Environmental concerns reportedly have replaced land disputes as the main cause of social unrest in the country. One retired Communist Party official told reporters that "the major reason" for so-called mass incidents – public demonstrations, strikes and protests – is the environment. "If you want to build a plant", he told reporters, "and if the plant may cause cancer, how can people remain calm?"
Information about many of the mass incidents, especially the smaller ones, is eliminated from the internet very quickly by the state. So it's impossible to calculate the exact number. Estimates vary between 30,000 and 150,000 per year.
But the message from known cases is clear enough: more and more Chinese people have had enough of pollution. For many, this is a life and death question. It will generate more and more intensive struggles in the months and years to come.