Greek elections: Syriza's young radicals plot a political earthquake for Europe
Syriza leader Alexis Tsipras, second right, celebrates success in May's European parliament elections with Athens governor Rena Dourou, left, and mayoral candidate Gabriel Sakellaridis Photograph: Corbis/Panayiotis Tzamaros
An air of excitement pervades the headquarters of Greece's far-left Syriza party. In small, smoke-filled rooms, off corridors plastered with posters advertising Marxist seminars and cluttered with coffee cups and leftover meals, staff pore over computers. Most are women, young and intense, cigarettes dangling from lips as they tap into keyboards. The hubbub of chatter is loud. Up narrow staircases people zoom this way and that. For the visitor there is no mistaking that the seven-storey building, overlooking one of Athens's more rundown squares, is as much a place of workable chaos as it is a well of expectancy.
"Hope is coming," proclaims a poster pinned to the noticeboards of almost every floor. "Greece is progressing, Europe is changing."
"Welcome to Syriza," says Panos Skourletis, the party's grey-haired spokesman, proffering a guided tour of the offices' newly renovated media room, "and please forgive the smoke."
Barely a week before critical elections in a country once again caught up in the eurozone storm, Skourletis is buoyant. It is easy to see why. With every poll giving Syriza an indisputable lead, the radicals are on a roll. For Europe's growing class of anti-austerians, victory is in sight. "We are going to win," he enthuses somewhat triumphantly. "There is only one question, and that is by how much."
If bookies in Athens are to be believed, the odds on the party securing an outright majority are still slim. But, says Skourletis, as the election campaign enters its final stretch things are looking up. "On the basis of data and empirical evidence, we believe we are going to get more and more votes from the undecided, because that is how it has worked for parties in the lead in the past."
The leftwingers are not alone in taking note of the Greek electorate's ballot-box intentions. From Westminster to Washington, Madrid to Rome, the 25 January poll is being seen as a potential watershed in the eurozone crisis. If the radicals are catapulted to power, their victory will resonate beyond Greece, reviving fears of Athens being led to the euro exit door.David Cameron and his prime ministerial counterparts in Spain and Portugal, who face electorates themselves later this year, are watching closely. So, too, are mandarins in Brussels and Berlin.
Syriza supporters paint a banner outside anelection rally in central Athens.
Photograph: Orestis Panagiotou/EPA
From maverick marginals, the leftwingers have moved to centre stage, riding high on opposition to the austerity Athens has been forced to apply in return for €240bn in emergency bailout funds from the EU and International Monetary Fund. Their ascent poses the biggest threat to consensus politics in decades. Alexis Tsipras, Syriza's firebrand leader, has promised to take an axe to the nexus of interests that have kept Greece's rotten establishment alive – starting with the media-owning oligarchs who control so much of the country's internal debate.
"The future has already begun," he declared after parliament's failure to elect a president triggered a constitutional provision for early elections.
Shock, anger and fear have marked Greece's financial meltdown. But five years on, Syriza's meteoric rise – and imminent electoral victory – also presages the passage of despair. Many Greeks will be inclined to vote for the insurgents as much out of hopelessness as helplessness.
"With our country's economic crisis, our big opening has been to the decimated middle class," Skourletis says. "In us they have found a voice."
The radicals have come a long way from the time I would visit their headquarters back in the early 1990s.Then, conversation inevitably focused on intra-party disputes between Eurocommunists and the Stalinist KKE. Over tiny cups of Turkish coffee – gleefully provided as guests were so rare – Leonidas Kyrkos, the late Eurocommunist leader, would speak of the scandal-ridden nation's need for "catharsis, " amid warnings of its tendency to overspend, but bemoan the fact that his utopian views were shared by so few. That he would have a successor, who would emerge from school sit-ins and the anti-globalisation movement to be embraced not only by Greeks but the entire spectrum of Europe's left, would undoubtedly have mystified him.
In many ways Skourletis personifies the tectonic shift. The son of a public-sector doctor, and owner of a successful company importing tools before the crisis hit, he has seen many of his friends destroyed by the fate that has befallen Greece.
"Like Greeks all over, they availed themselves of the loans that the banks were giving out so freely to buy houses and cars and, then, suddenly found themselves unemployed," he says, wincing. "Because they are in their 50s, they are unlikely to ever work again, which means they have no prospect of getting a pension either. It's tragic."
Activists watch an interview with Syriza leader Alexis Tsipras newspaper at the party's election centre in Athens last week.
Photograph: Aris Messinis/AFP/Getty Images
Precisely because it has been untested by power, Syriza has also been able to count on the support of a younger generation disproportionately hit by job losses.
In the absence of open revolt, the anti-establishment party is regarded as the best form of resistance to policies that have caused a Depression-era recession, worse, analysts say, even than that suffered by the United States in the 1930s.
Although the Greek economy has begun to show the first signs of recovery – the result of rigorous efforts to balance the books by prime minister Antonis Samaras's outgoing coalition – the effects of such momentous fiscal adjustment have been catastrophic.
GDP has contracted by more than a quarter, around 26% of the population remains out of work, and more than three million live on, or below, the poverty line. Tsipras, last week, likened the measures to "fiscal waterboarding".
The appetite of Greeks for yet more drama is limited. Almost six years after the country was forced to come clean on the scale of its public spending, they are worn out by relentless cuts and tax rises and are visibly fatigued. Greece itself has been hollowed out. Athens, home to almost half of its 12 million-strong population, has become a casebook study of what happens to capitals when they go broke, its smashed pavements, unkempt parks, boarded up shops and ever multiplying beggars and homeless the tell-tale signs of its financial collapse.
In such a climate, Tsipras's promise of a public spending spree has gone down well. Across the board, Greeks have welcomed his pledge to tackle the country's "silent humanitarian crisis" by increasing the minimum wage, reducing taxes and hiring in the public sector. But the euphoria that accompanied past political sea-changes is unlikely to be evident. Many say they will be rooting for Syriza out of protest against the centre-right New Democracy and the centre-left Pasok, the two mainstream parties that,alternating in power for the past 40 years, have been blamed for Greece's near economic death.
Aware that the vast majority want to remain in the eurozone, Tsipras, who turned 40 last year, has toned down his anti-European rhetoric. Gone are the references to "tearing up" the memoranda of conditions attached to the country's rescue programmes. Last week he went out of his way to placate German taxpayers, saying that they had "nothing to fear from a Syriza government".
"Our aim is not for a confrontation with our partners, to get more credits or a licence for new deficits," he wrote in the economic daily Handelsblatt. "It is to stabilise the country, reach a balanced primary budget and end the bloodletting from German and Greek taxpayers."
But the charismatic politician still says he has "Merkelism" in his sights. Ending austerity and writing off Athens's monumental debt – at 177% of GDP the largest in Europe – remain priorities. And with creditors ruling out both, analysts say it will require a major kolotumba, or U-turn, on the part of the leader to avert a head-on collision. Earlier this month the European Central Bank added to the pressure with a stark warning that Greek lenders would be unable to tap funds if bailout conditions were dropped, raising the spectre of a bank run in the months ahead.
A free meal organised by the Athens municipality for elderly, homeless and needy people last Easter.
Photograph: Panayiotis Tzamaros/Demotix/Corbis
"Tsipras is entrapped in his own rhetoric," says Dr Eleni Panagiotarea, a research fellow at Eliamep, Greece's leading thinktank. "To move from where he is now to pulling off the kolotumba will not only mean a loss of prestige but control over the various far-left factions in his party and, if that happens, it is going to be very difficult for him to get his own MPs to vote through legislation in the future."
Maoists, Trotskyists, anti-capitalist activists and champagne-swilling ex-trade unionists, who once belonged to the socialist Pasok party, are among the 11 groups that are part of Syriza. At least 30% are militants who openly advocate dumping the euro in favour of the drachma. Tsipras moved up the ranks through Synaspismos, the Eurocommunist party that forms the alliance's central plank. If he controls 60% of the MPs who are likely to be elected next Sunday, insiders say it would be a "huge achievement".
"He is faced with a huge dilemma," says Spyros Lykoudis, who spent more than 20 years in Synaspismos before abandoning the party in disagreement over the need to press ahead with reforms. "If he placates creditors abroad, he stands to lose his own constituency and if he doesn't he risks bankruptcy."
Lykoudis, who is now running with To Potami, a centrist party established last year, believes the best solution would lie in the formation of a coalition government.
"And our hope is that it is us who emerges as the country's third biggest force and not the neo-Nazis in Golden Dawn," he adds. "If reformers are in his government, it will act as a restraint and make it easier to take measures. As things stand, he is a populist who promises all things to all men."
The charge that Syriza is composed of dangerous ideologues bent on turning Greece into a Marxist paradise is heartedly rebuffed by cadres.
Instead the leftwingers argue that the centre of gravity in politics has shifted so much to the right since the advent of Thatcherism that the party's proposals now seem radical. "All the things that sound radical now were standard fare in the golden age of capitalism in the 50s and 60s," says the economics professor Euclid Tsakalotos, Syriza's shadow finance minister for the last two years.
Raised in Britain and educated at St Paul's, the leading London private school, before going to Oxford, Tsakalotos, 54, insists that after years of being subjected to the brutal vagaries of the market, there are growing numbers across Europe who feel excluded from decision-making and the centres of power.
"We are only more radical in the sense that we have been influenced by the anti-global movement and believe in concepts of participatory democracy," he adds. "The angst Syriza has caused is down to us challenging a system that can't actually represent the interests of ordinary people."
In the party's smoke-filled headquarters, the leftwingers say they are gearing up for a fight. This is the closest they have come to power since the formation, almost 200 years ago, of the modern Greek state, and they are not going to surrender easily.
"Unlike the left elsewhere, we stopped arguing about Trotsky and Stalin and managed to bury our differences," says the soft-spoken Christoforos Papadopoulos, a member of the party's political secretariat. "That has been the secret of our success, and you can be sure that when we reach office we are not going to betray what we believe in."
When the going gets tough, it is likely that Syriza will focus on clamping down on oligarchs and other vested interests to get by. One US cable, revealed by WikiLeaks, described the tycoons as "a small group of people who have made or inherited fortunes …  and who are related by blood, marriage or adultery to political and government officials and/or other media and business magnates."
"What we will not be doing is making any kolotumbes," says Papadopoulos, taking a mighty draw on his umpteenth cigarette.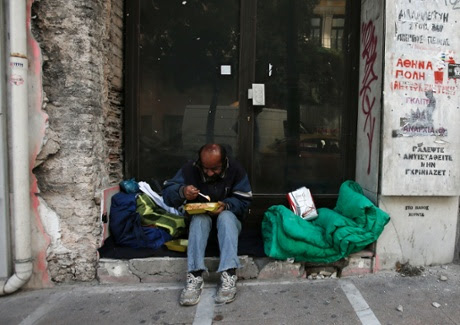 A homeless man eats in the doorway of a closed shop in Athens.
Photograph: Thanassis Stavrakis/AP
SYRIZA'S PROMISES
The party aims to end austerity by:
■ Giving free electricity to Greeks whose supplies have been cut off;
■ Providing food stamps to children;
■ Giving health care to the uninsured;
■ Providing a roof for the homeless;
■ Raising the minimum wage to €750 a month from under €500;
■ Introducing a moratorium on private debt repayments to banks above 30% of disposable income.
In addition, Syriza says it will call for Greece's "unsustainable" €320bn euro debt load to be drastically reduced and interest repayments cut. It wants an international conference to be held on the issue in an echo of the treatment given Germany after the second world war.
It also wants to abolish the economic privileges enjoyed by the Greek Orthodox church and shipping industry, reduce military spending, raise taxes on big companies and set a 75% tax on incomes over €500,000.