Protest after water charge demonstrators jailed for contempt
Friday 20 February 2015 08.56
Around 200 protesters marched from O'Connell Street to Mountjoy Prison this evening after five water charge protesters, who were found in contempt of court, were given jail sentences.
Three people were jailed for 28 days and two others were given sentences of 56 days each.
Following the ruling this afternoon a group of protesters blocked a garda van from exiting the complex at the Courts of Criminal Justice.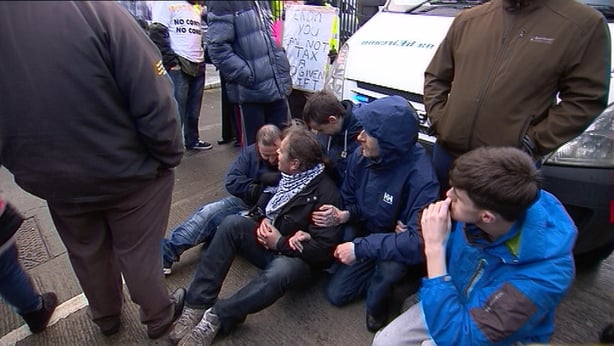 A group of protesters also blocked traffic near the CCJ on Parkgate Street, before beginning a slow march in front of the traffic towards the city centre.
O'Connell Bridge was blocked for a short time, before the protest moved towards the GPO on O'Connell Street, where there was a sit-down protest by a number of people.
The protesters then marched towards Mountjoy Prison. Traffic in the city was severely disrupted.
The Anti-Austerity Alliance has condemned the jailings.
AAA TD Paul Murphy said: "The jailing of these protesters and the arrests in Tallaght is an attack on the right of communities to protest against the imposition of austerity measures, in this case the water charge and meters, which are being imposed by the Government despite the massive opposition to them."
Speaking on RTÉ's Six One News, Mr Murphy claimed that if people do not want a water meter they have a right not to have one.
He said that a movement is needed to defeat austerity and if that means massive civil disobedience, then that is what is necessary.
The Right2Water campaign described the sentences handed down to the five men as "an unnecessary and provocative decision brought about by an unfair water charge that has already been rejected and cannot work".
In a statement the group said: "The protesters jailed today are simply protecting themselves, their children and their communities from further political attacks on their living standards. They should be freed without delay".
Speaking in an interview on RTÉ's Prime Taoiseach Enda Kenny said the decision was made by a completely independent judiciary.
He also said that the Government respected the right to demonstrate but that it should be exercised within the law.
On the same programme, Socialist TD Ruth Coppinger said there is outrage nationwide over the jailing of the protesters.
She added that the protesters were within their rights to continue to protest in spite of the injunction.